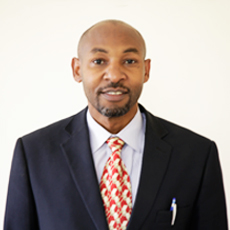 Dr. Julius Kithinji

---
Dean, School of Theology
Welcome Message
Welcome to the Joshua and Timothy School of Theology at St. Paul's University (JTSOT). Our vision is to be "An excellent ecumenical School for nurturing servants of God and humanity" and our mission is "To train God fearing servants for global service."
The history of the School goes back to 1888 when it was started as a Divinity School for Church Missionary Society, training freed slaves for Anglican ordained ministry. Later, The Presbyterian Church of East Africa, The Methodist Church in Kenya, Reformed Church of East Africa and The National Council of Churches of Kenya joined at different times to establish an ecumenical partnership. The School grew and remained as Faculty of Theology until recently (2022) when it transition to a School. The name Joshua and Timothy represents intergenerational biblical leadership; Joshua was a student of Moses and so was Timothy a student of Paul. Currently, JTSOT is among the few ecumenical and international institutions of higher theological education in Africa with faculty and students drawn from different parts of the world.
Staff establishment and programmes
The School has a population of over 500 students with 13 fulltime staff and 17 adjunct lecturers. There are two Departments: the Department of History, Missions, Religion and Practical Theology; and the Department of Biblical Studies, Philosophy and Theology. The School also hosts three centres that link theoretical training with practical issues in the contemporary society. These centres are: Centre for Translation and Contextual Bible Study (CETCOBS); Centre for Islamic Studies in Africa (CISSA) in conjunction with the Center for Christian and Muslim Relations at Eastleigh (CCMRE); and The Africa Centre for Biblical Equity (TACBE).
We offer unique undergraduate and postgraduate curricular that are carefully designed to address the needs of the church in the 21st century. All our degree programmes have been approved by the Senate and accredited by the Commission for University Education in Kenya. The faculty offers the following programmes:
PhD in Theology with specializations in:
Biblical Studies
History of Christianity
Missions
Pastoral Counseling
Systematic Theology
Masters in Theology (MTh) with specializations in:
Biblical Studies
Bible Translation
History
Practical Theology with Counseling & Mission studies
Philosophy
Systematic Theology(Philosophy and Gender)
Master of Arts in Islam and Christian-Muslim Relations (ICMR)
Postgraduate Diploma in Islam and Christian-Muslim Relations
Bachelor of Divinity (BD)
Bachelor of Arts in Translation Studies with emphasis on:
Translation languages (English with French, Kiswahili, Arabic, Biblical Greek, Biblical Hebrew, or any other in which the student shows interest).
Translation theory
Conference interpreting
Translation of sacred literature
Translation of Business documents
Translation of Medical documents
Translation of Legal documents
Translation of Children's Literature
Translation of Multi-media information
Diploma in Theology
Diploma in Music
Diploma in Kenya Sign Language Interpretation
Certificate in Theology
Certificate in Music
Faculty Leadership
Rev. Dr. Julius Kithinji

Dean of School

Rev. Dr. John Kiboi

HOD Biblical Studies, Philosophy and Theology

Dr. Kevin Muriithi Ndereba

HOD History, Mission, Religion and Practical Theology

Rev. Prof. Kabiro Wa Gatumu

Programme Head PhD in Theology and Chairman CETCOBS

Rev. Dr. Zebede Muga

Programme Head MTh

Rev. Dr. Joseph Mutei

Programme Head for MA-ICMR

Rev. Dr. Emily Onyango

Coordinator of faculty fellowship and Chair TACBE

Ven. Scholar Wayua Kiilu

Coordinator of CCMRE and CISSA

Prof. Chosefu Chemorion

On sabatical leave

Dr. Sammy Githuku

Prof. Aloo Mojola

Prof. Esther Mombo

Rev. Rowland Van Es

Ms. Lisy Mutua

Executive Secretary

Mrs Mercy Mbaka

Departmental Secretary

Rev Lois Muturi

Secretary for Diploma collaborations