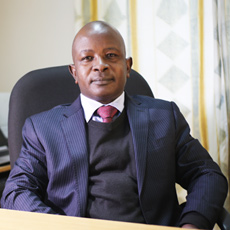 Dr. Suleiman Mwangi

---
Dean, School of Education and Social Sciences
School of Education and Social Sciences
Welcome Message
Welcome to the School of Education and Social Sciences at St. Paul's University. The School offers PhD, Masters, undergraduate, Diploma and Certificate programmes in the following Social Science fields of study; Development Studies, Education, Social Work, Leadership and Management, Peace and Conflict Studies, Criminology and Security Management and Counselling Psychology. The School of Social Sciences was started in September 2012 with 3 departments and eight programmes. Currently, it hosts two Departments - the Department of Social Sciences and Department of Education; and 27 programmes which include one PhD programme, four Master programmes, One Post-graduate Diploma Programme, eight Undergraduate programmes, seven Diploma programmes and three certificate programmes. All the degree and Post-graduate Diploma programmes have been approved and accredited by the Commission for University Education (CUE) while the Diploma and Certificate programmes have been approved by the St. Paul's University Senate.
The aim of the school is to offer quality programmes in Social Science areas of study that focus not just on the market needs but on enabling graduates to be creative and effectively function in a global community. We thus focus not only on the knowledge but also in inculcating values and spiritual formation through the curriculum and co-curricular activities as well as structured and inbuilt practicums that enable students to interact and learn from the world of work and the community. We value the input of all stakeholders in our programmes. We therefore engage stakeholders in the development and review of our programmes in order to improve the quality of our programmes and our graduates. The positive feedback we get from employers is a testimony on the quality of our graduates. The faculty is committed to continuously improve existing programmes and develop new ones that address the needs of the Society.
Programmes Offered
Post-Graduate Programmes
PhD in Development Studies
Master of Arts in Sociology
Master of Arts in Islam and Christian-Muslim Relations (ICMR)
Master of Development Studies
Master of Education (Early Childhood Studies)
Post Graduate Diploma in Higher Education Pedagogy
Undergraduate Programmes
Bachelor of Arts in Community Development
Bachelor of Arts in Counselling Psychology
Bachelor of Arts in Criminology and Security Management
Bachelor of Arts in Peace and Conflict Studies
Bachelor of Arts in Social Work
Bachelor of Education (Arts)
Bachelor of Education (Special Needs Education)
Bachelor of Education (Early Childhood Development and Education)
Diploma Programmes
Diploma in Community Development
Diploma in Counselling Psychology
Diploma in Social Work
Diploma in Peace Building and Conflict Resolution
Diploma in Criminology and Security Management
Diploma in Education (Early Childhood Development and Education)
Certificate Programmes
Certificate in Community Development
Certificate in Criminology and Security Management
Certificate in Higher Education Instructional Design and Teaching
The school has over 2000 students spread across different programmes and the three university campuses namely; Limuru, Nairobi and Nakuru. In addition, the school offers selected Diploma and Certificate programmes through three Collaborating Colleges.
Faculty Leadership
Dr. Suleiman Mwangi

Dean of School

Dr. Petronila Otuya

HOD, Department of Social Sciences

Dr. Milka Ajuoga

HOD, Department of Education

Maryann Mwangi

Ag. HoD Social Sciences– Nairobi